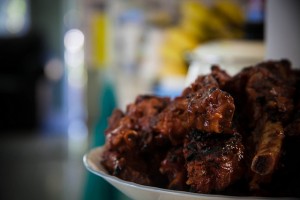 A couple weeks ago I took a stroll in a market of my current city of Cincinnati, Ohio. The market is named Findlay Market, it has been around since 1855! It's what you would picture to be in a movie when you hear about a market. Starting with the center of the market, there is a long narrow inside area with a number of butcher counters, bakers, deli counters, gelato, prepared food and more. Moving outside, there are stands all around the outside under canopies extending from the main building. These counters are lined with fresh produce, breads, desserts, clothes, plants….performers playing music in various corners. Surrounding the market are brick and mortar businesses. They are mostly small restaurants, chocolate and dessert shops, and other niche businesses. A really cool place in the middle of an up and coming, but still not so great, neighborhood.
The purpose of this story is not to talk about how nice Findlay Market is. The reason I'm writing this is to talk about quality and people dedicated to making things better. I started off stopping at a barbecue shop, Eli's Barbecue, and I put in an order for some rib tips and pulled pork. It was going to take about twenty minutes for our order to be ready, so I started walking around the market.
I stopped first at a nearby (and relatively new) chocolate shop, Marverick Chocolate. Walking in, I was greeted by a woman that knew her chocolate. She let me try several of the different types of chocolate. I commented about how it tasted more "buttery" than the normal dark chocolate I eat. She responded by telling me about how their chocolate is made and how the big companies actually leave the cocoa butter out in the creation of chocolate and how they leave it in. This is one of the reasons why their chocolate is more expensive, but also one of the reasons it tastes better. The woman clearly knew her stuff, she cared about it, she was friendly and helpful with no pressure to buy. After our interaction I decided to splurge on the $6 or $7 chocolate bar.
Walking around, I stopped next at a place called Fresh Table. They make a number of prepared foods using mostly local and organic ingredients. The foods in their display case look amazing. I have eaten at Fresh Table before but as we browsed the selection I decided to pick up some of the curry chicken salad to eat as an appetizer.
Lastly, I arrived back at Eli's barbecue and enjoyed my lunch. The barbecue was fantastic, the chicken curry appetizer tasted great, and the chocolate was delicious (I just had a couple of pieces from the bar, have to make $6 chocolate last). It was a nice day. I could have gone somewhere else and gotten a much cheaper meal and dessert. I spent $3-4 on an appetizer, around $10 on lunch, and bought a chocolate bar for $6….I will not argue that is a bit more than you might want to spend. But there are benefits that go beyond the full stomach here.
I purchased from people who truly care about their product. They look at it like an art. Each day they try to improve and create a higher quality item. They do what they do because they love it. Without the people running these businesses, we would have no resistance against being a fast food nation. The chain restaurants are taking over the world with chemically flavored, flash frozen, thawed and cooked entrees.
The purveyors of everything we bought were also local. When we buy local, the money supports our community. It supports a small business, jobs, and the city. I earned money in my city, they are making profits, they in turn will pay employees and pay taxes…the money will all help the community to grow. These guys don't have big tax breaks, they pay their tax bill and are contributing to our nationwide GDP.
Lastly, beyond someone who cares about the product and supporting the community, the products were just great quality. There is a difference between paying something because it has a "brand" name and because something is truly better quality. As I have gotten older I have started to not just buy the cheapest product, but looking for the best value. Part of finding that value is weighing price versus quality. I find benefit in buying something that is going to last a long time and maybe even get nicer with age. We have become a "throw-away" society, and I hope we can move more towards a craftsmanship society. Next time, you purchase something, I urge you think about the craftsmanship that went into it.
What do you all think? How do you think about value? What are your thoughts on craftsmanship vs. throw-away?