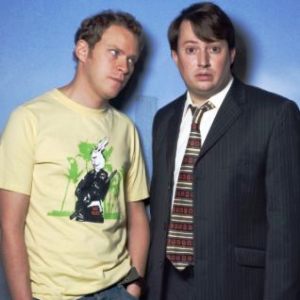 There are an ungodly amount of TV shows that litter our TV screens these days.  You can place these programs into a few buckets:  reality shows, cop shows, bad sitcoms, and doctor shows.  We have more shows than ever before to pick from, but so very few funny shows.  There are a few mainstream shows out there that most critics agree are pretty funny: Curb Your Enthusiasm, 30 Rock, The Office (UK & US), and maybe a couple others.  So I wanted to take a couple minutes today to point out a few hilarious shows that you may not have heard of.
Trailer Park Boys
Trailer Park Boys is a show that is much more intelligent than it may initially seem.  On the surface there is a lot of foul language, crude behavior, drinking, stealing, and other outlandish activity.  However, if you peel back the onion there is some great comedy going on (much of it completely improvised).
The show is a Canadian "mockumentary" depicting life at Sunnyvale Trailer Park.  First and foremost, there are Ricky and Julian.  They have been friends since they were kids, and have always been up to no good.  Julian is the "brains" of Sunnyvale Trailer Park, and everyone looks to him as a leader of sorts.  Ricky is a fun-loving, erratic behaving guy who swears a lot and really struggles with words (see video below).    They have a sidekick named Bubbles who lives in a shed with a bunch of cats.  The trailer park is run by Jim Lahey, an ex-cop and intermittent (usually more on than off) alcoholic, and his assistant Randy (who loves cheeseburgers, never wears a shirt, and strips down to his bright white briefs if he is going to get in a fight).  The plot generally centers on some sort of get-rich-quick scheme that the boys come up with.  These plans ultimately hit some sort of obstacle…then hilarity ensues.  There are some GREAT characters in this show that appear regularly or on a recurring basis.
A few interesting notes…
For most of the shows run ('01 – '08), the actors refused to break character in press appearances to further enhance the appeal of the "mockumentary style".
The show is very loosely scripted with much of dialog simply ad-libbed and the action improvised.
Ellen Page, the well-known actress from Juno & Inception, has the role of Jim Lahey's daughter in a couple seasons.
You can check out Peep Show on Netflix streaming or iTunes (paid).
Peep Show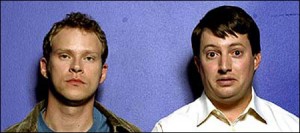 Point-of-view camera shots, unpredictable twists, and internal dialogue are a few of the reasons I HIGHLY recommend "Peep Show".  Peep Show is a British sit-com that follows around two roommates in their early twenties, Mark and Jeremy.  Mark is socially awkward, risk-averse, and a bit pessimistic, whereas Jeremy is much more optimistic but also views himself as a more talented, successful, and attractive than the rest of the world finds him.
The show has been running since 2003, which makes it the longest running sit-com ever on the UK's Channel 4.  It has achieved cult status in the UK.  Well known comedian and actor Ricky Gervais called it, "the best show on television today".  The humor is definitely British and a bit raunchy at times, but the characters are surprisingly lovable idiots.  Most people that watch the show seem to get a few good belly laughs per episode.
Mark: What does your sister do?
Toni: Not much. She's got leukaemia.
Mark: (That's what you get for trying to flirt.)
Mark: That's terrible. I'm so sorry. I suppose… I mean, at least it's not cancer.'
Toni: It's a form of cancer.
Mark: Man. That's terrible. My gran… died of cancer. Although, hopefully, your sister… won't.     Obviously. Listen, let's talk about something else. Something fun.'
You can check out Peep Show on Netflix streaming, Hulu (free for some episodes), or iTunes (paid).
Louie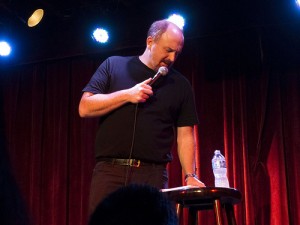 Louis C.K. has been a funny comedian for a long time, "Louie" is his first real all-out venture into the world of television.  It is a dark comedy that centers on a fictionalized version of himself.   The show is about fictionalized Louie's life as a newly divorced father of two girls.  He lives in NYC and is a moderately successful comedian.  This show is far from serialized, featuring very few recurring characters, and each show essentially being independent of the others.  Unlike the other two shows which started 10+ years ago, this show is newer and still in its early stages of development.  The jokes are a bit dark and focus on some relevant issues (divorce, sex, etc…) in a much different way than a normal sit-com.  Give it a chance and see what you
A couple interesting notes…
The show is very low budget – $300k per episode
Louis C.K. is the writer, director, producer, and star…he even edits some of the episodes himself
You can check out Peep Show on Netflix streaming, or iTunes (paid).
Thoughts?  Opinions?  Anything to add to the list?  Leave  comments below…